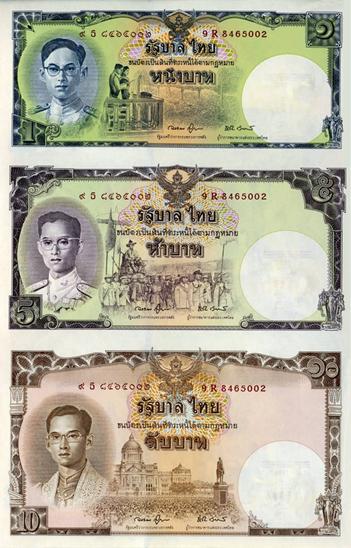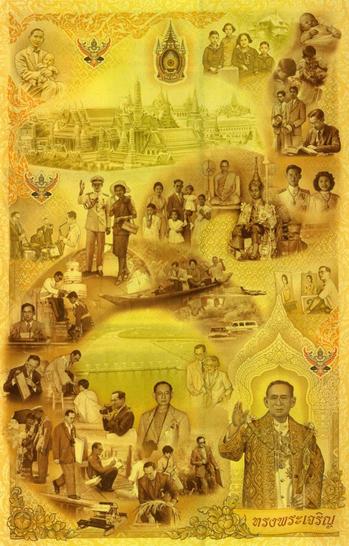 Appraisal price
Ordinary number with folder UNC about 240 - 260 baht. <! Jan 2017 # 581>
The price was updated on 30th October 2017.

Banknote info
In the celebrations on the auspicious of His Majesty King Bhumibhol Adulyadej's 80th birthday anniversary, Bank of Thailand has permission to issue the commemorative banknotes in 2007.
The banknotes were issued on 28 Nov. 2007. The price of the banknote and a paper fplder were 1000 baht.
Banknote size
22.90 x 14.70 cm.
Amount of printing
15 million notes. Serial number 9K 0000001 - 9999999 and 9R 0000001 - 5000000
Front
1-Baht banknote depicts the portrait of His Majesty King Bhumibol Adulyadej, the reigning monarch (Rama IX), the portrait of Their Majesties the King and the Queen granting an audience to various groups of people who paid tribute to His Majesty on the occasion of his coronation in 1950 at the Sutthaisawan Prasat Hall.
5-Baht banknote depicts the portrait of His Majesty in a royal procession by land, marking his 3rd Cycle Birthday Anniversary in 1963.
10-Baht banknote depicts the portrait of His Majesty granting an audience to various groups of people who paid tribute to His Majesty on the Auspicious Occasion of the 60th Anniversary Celebrations of His Majesty's Accession to the Throne in 2006 at the Ananda Samakhom Throne Hal
Back
The reverse side depicts the portraits of His Majesty in his childhood, paying a royal visit, and performing royal activities.

<! adsense 4> <! end adsense 4>