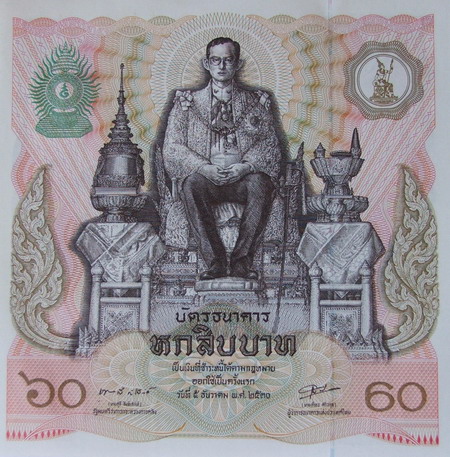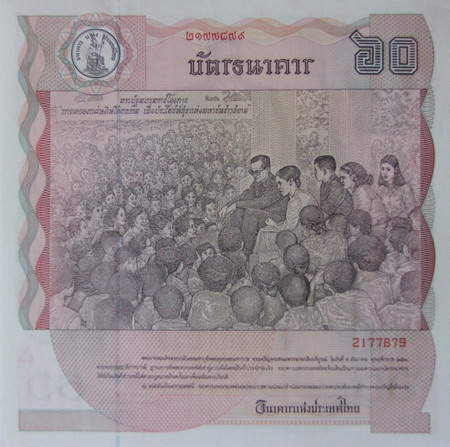 Appraisal price
Specimen in English UNC about 22,500 - 23,600 baht. <! 5 Aug 2017 # 1195>
Specimen in Thai UNC about 6,600 - 7,000 baht. <! 30 sep 2017 # 623>
Ordinary number UNC about 190 - 220 baht. <! 30 sep 2017 # 466>
The price was updated on 30th October 2017.

Banknote info
In the celebrations on the auspicious of His Majesty King Bhumibhol Adulyadej's 5th Cycle birthday anniversary, Bank of Thailand has permission to issue the commemorative banknotes in 1987.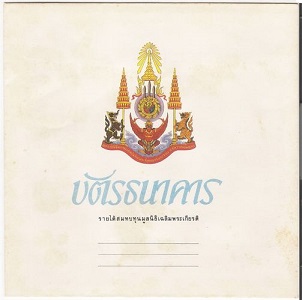 The banknotes were issued on 8th Dec 1987. The price of banknote was 60 baht. In the begining of issuing, Bank of Thailand provided paper folder for the banknote. The price of banknote and paper folder were 120 baht.
Banknote size
15.90 x 15.90 cm.
Amount of printing
9,999,999 notes, serial number 0000001 - 9999999
Front
The image of King Rama 9 in the uniform of the Supreme Commander of the Armed Forces, wearing a ceremonial robe, the Pudtan Kanchanasinghas Ceremonial Thone.
Back
Their Majesties the King and Queen, H.R.H Crown Princess Maha Vajiralongkorn, H.R.H. Princess Maha Chakri Sirindhorn and H.R.H. Princess Chulabhorn surround by their subjects.
Signatures on banknote
Minister of Finance


Mr. Sutee Singsaneh (11 Aug. 1986 - 4 Aug. 1988)+(6 Mar. 1991 - 22 Mar. 1992)+(17 Apr. - 24 May. 1992)

Governor of Bank of Thailand


Mr. Kamjorn Satirakul (14 Sep. 1984 - 5 Mar. 1990)


<! adsense 4> <! end adsense 4>