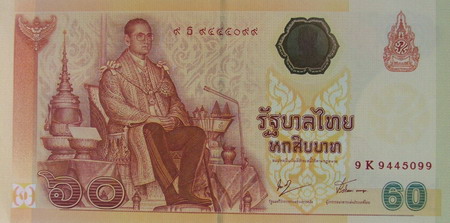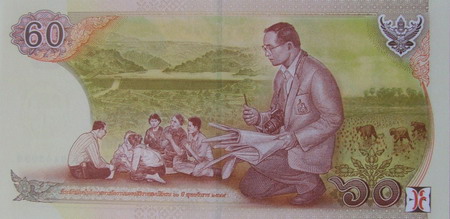 Appraisal price
Specimen in Thai UNC about 6,600 - 7,000 baht. <! 5 Aug 2017 # 1199>
Ordinary number UNC about 390 - 410 baht. <! Dec 2016 # 2172>
The price was updated on 30th October 2017.

Banknote info
On the auspicious occasion of 60th anniversary celebration of HM. King Rama 9's accession to the throne in June 2006, Bank of Thailans issued the commemorative banknotes.

The banknotes were issued on 9th June 2006. The banknote price was 100 baht with paper folder.

<! adsense 4> <! end adsense 4>
Banknote size
8.10 x 16.20 cm.
Front
The main object is the image of His Majesty King Bhumibhol Adulyadej seated on the royal throne surmounted by the 9 tiered great white umbrella of state in Amarin Winitchai throne hall.
Back
The main object is the image of HM. King while performing royal activities. The other images are Khun Dan Prakarnchol dam in Nakhonnayok province and His Majesty Hing visiting his people.